HJS systems bring existing vehicles to state-of-the-art emission level. For subsequent reduction of emissions of pollutants from internal combustion engines, we develop and market products for retrofit. We operate all types of vehicles from cars/small trucks/ mobile homes, through commercial vehicles/ public transport and extending to construction machines.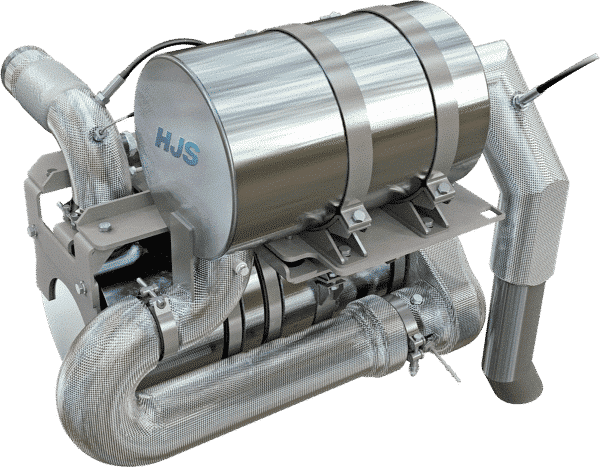 DLS is selected as the new distributor, retrofit system integrator and after sales/service-organization including parts-sales for the emission reduction solutions of HJS Emission Technology in The Netherlands and in Turkey. HJS Emission Technology – founded in 1976 – is a leading supplier in the development and production of emission technology for reduction of dangerous exhaust emission of diesel, petrol and gas engines. HJS systems are used for nitrogen oxide and particle reduction. HJS besides the traditional technology like ceramic filters, also delivers innovative, by HJS patented technology.
The solutions of HJS are designed for on- and non-road heavy duty transport and also stationary applications. Market segments that are served are public transport, coaches, light commercial vehicles, trucks, construction, material handling, marine, rail and generator sets. HJS solutions are delivered to the original equipment manufacturers (OEM), end-users, fleet owners, rental companies and governments.
The HJS products based on the patented Sintered Metal Filters (SMF®) distinguish themselves from the traditional filter technology: the SMF® filter in many ways is much better than the conventional technology: the filter efficiency is 99% on nano particles and >99% of PM mass reduction. The long operation period due to low back-pressure, high ash storage capacity, low maintenance costs and easy cleaning procedures results in high performance, low costs of ownership and easy recycling.
The SMF® filter can easily be cleaned for over hundreds of times, whereas at traditional ceramic filters usualy often only can be cleaned for 2 to 3 times. By means of intelligent sensoring and built in thermo electric self regulation, the SMF®-AR filter of HJS can be regenerated at almost any engine operating point, irrespective of exhaust-gas temperature. The heat necessary to burn off the particulate matter is generated by the SMF®-AR system itself.