100% Electric for 50% of the time
Effenco's Active Stop-StartTM technology is an electric system designed to shut down the engine of vocational trucks when they are stationary and to provide electric power to the vehicle equipment, cab and chassis accessories including the HVAC system. Since these vehicles spend a large proportion of their operating time immobile, the Active Stop-StartTM technology creates value by reducing engine operating hours and corresponding fuel consumption, emissions and maintenance.
Effenco's Active Stop-StartTM technology is protected by patents.
Since December 2019, DLS is the official distributor for the Effenco systems in Benelux, Turkey, Iceland and some OEM's in United Kingdom.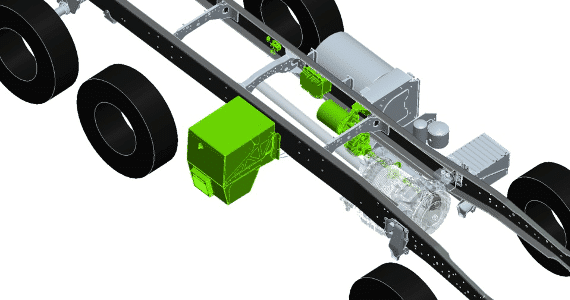 Effenco Hybrid Solutions in Montreal is founded in 2006 and is specialized in the development and delivery of solutions for upgrading existing vehicles with an electric hybrid stop-start system. This system eliminates engine use when immobile at worksites, while queuing & in traffic and at drop off & collection.
Effenco's mission is to bring energy efficiency to vocational heavy duty vehicles with a high percentage of idle time and immobile state. This is the transportation sectors's least efficient segment. And idling is the most inefficient mode for emissions and wear on the engine:
Wear of 500 hours of idling is compatible to 103.000km of road transport equivalent
Idle fuel rates are approx. 2 to 3,5 liters/hour and with an annual use of 3000 to 5000 hours and a immobile time of 35% to 60% this can add up to large volumes of fuel consumption that can be saved by the system
Since these vehicles spend a large proportion of their operating time immobile, the Effenco Active Stop-StartTM technology creates value by reducing engine operating hours and corresponding fuel consumption, emissions and maintenance. The principle of Effenco's solution is based on the conversion of kinetic energy into electric energy, stored in ultracapacitors. Once the vehicle is stopped, the engine turns off and the vehicle uses the electric hybrid system to power other vehicle operations like hydraulic pumps and vehicle systems like HVAC.  Also for restarting, only energy from the hybrid system is used and it does not add any load or wear to the existing electric starter and  batteries.
The system is engineered to be transparent to drivers. When the engine has been turned of by the system, the vehicle's transmission remains fully functional. The driver can change gear or simply stay in drive so the vehicle is ready to accelerate when the engine turns on. The system's PTO starter takes less than 400ms to take the engine from a stop to idle speed, making the vehicle as responsive as it would have been if the engine had been running.
This Effenco system was designed in combination with our Allison Transmission 3000 and 4000 series fully automatic transmissions. If you have an alternative transmission, please ask our DLS engineers for their advice.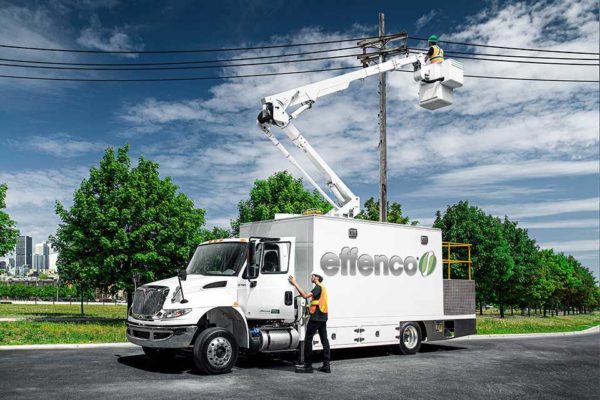 Advantages of Effenco Stop-Start hybrid technology
15-35% fuel savings
15-35% GHG Carbon dioxide emission reduction (indication 15-30 tons/year)
35-50% NOx emission reduction
35-50% PM reduction
40-50% fewer engine hours
Reduced engine maintenance (for instance: brake life extension is 2x)
Silence at stops
Improvement of ambient conditions for operators (safer and healthier)
Effenco's technology
The Stop-Start system consists of three main subsystems and additional subsystems for vehicle specific functions: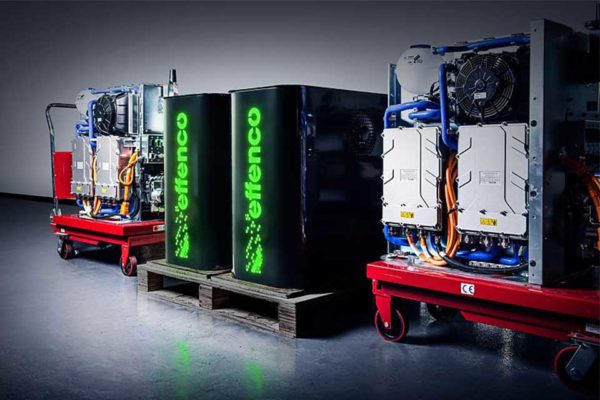 Electric hybrid starter-generator
Because of the high stopping frequency of vocational trucks, the system is equipped with a powerful electric hybrid starter-generator linked to the engine through a drive shaft and a constant mesh PTO connection. The system uses this starter to restart the engine and does not add any load or wear to the existing electric starter and batteries.
The electric hybrid starter can operate as a motor or a generator. In generator mode, it harvests power while the vehicle brakes or if braking energy is insufficient, by taking some power of the engine when it is at best efficiency point.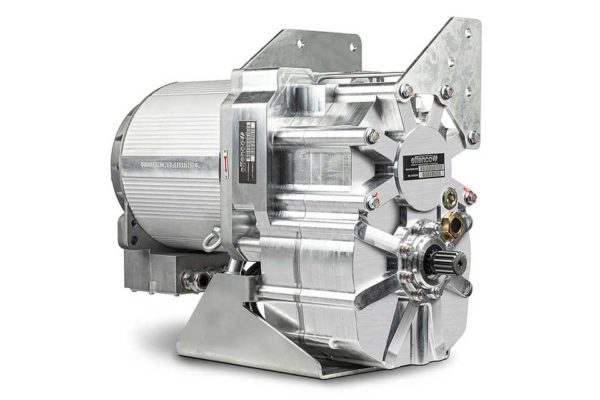 Ultra-capacitor energy storage
Acting as the system's battery, ultracapacitors are used to store the systems's energy and provide power to the electronic hybrid starter as well as the vehicle equipment when the engine is off. Recognized for their ruggedness, high cycle life, and resistance to temperature fluctuations, ultracapacitors are the best fit for the trucking industry. The ultracapacitors are designed to provide more than 1 million high power charge and discharge cycles.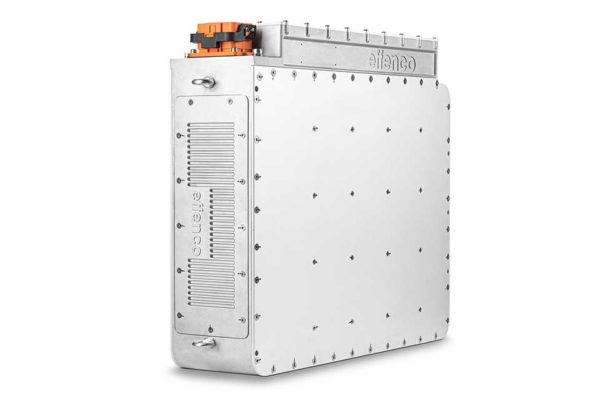 Electric PTO & other accessories
The system can include an electric motor driven hydraulic pump which allows the body equipment to operate with the engine off. Other equipment, such as an electric airconditioning compressor, can be added in parallel to the engine-driven equipment. All parallel electric devices added are sized to match performances and cycle time of the original equipment design.
Of-course the systems of Effenco are CE-certified and complying to all relevant legislation and standards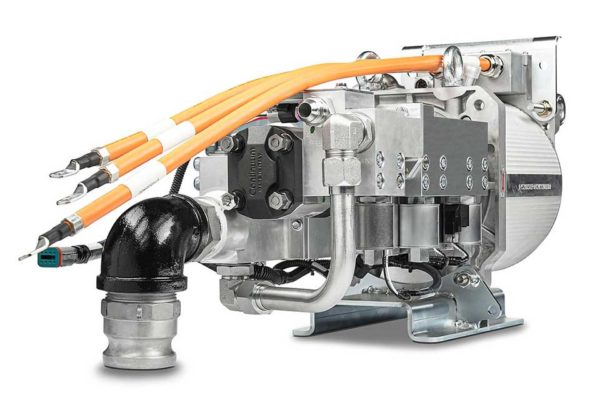 Real time vehicle monitoring
Central to the design process of the Effenco system was the collection of real-life data from vehicles on which Effenco's initial hybrid systems were deployed as well as hundreds of other candidate vehicles. Data centric design led the company to develop its flagship Effenco Active Stop-StartTM architecture designed to save fuel by maximizing the time a vehicle's engine is turned off when it is immobile.
To gather all this info, the systems of Effenco are equipped with connectivity by means of cloud technology for data gathering and data-analyses. Of course, all relevant data will be available to the driver by means of the dash mounted system display.

Over 5000 trucks are connected to the evolving database of Effenco. More than 100 parameters and 100 KPI's are logged 10times per second, which leads to an enormous amount of justified data. Effenco delivers this data for user purposes (Data As A Service) and we can customize this data for special demands of our customers.
From this data, the Effenco user interface creates reliable reports and results. Thus leading to proper fleet information and predictive maintenance monitoring and advises.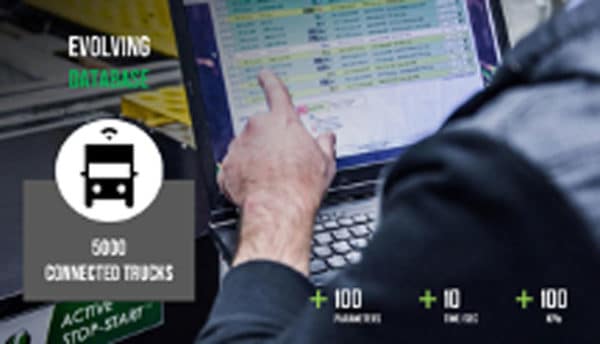 Our Effenco system is very suitable for stop-start applications like:
Refuse collection trucks
Urban buses
Urban package delivery (delivery trucks)
Bucket trucks
Construction (dump trucks, concrete trucks)
Agriculture (tractors)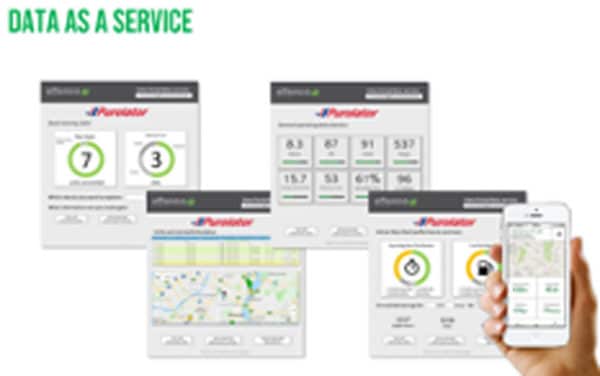 Since the introduction of the Stop-Start Hybrid system, the solutions of Effenco are widely spread within Canada, USA and Europe.