The powertrain of the future
Vehicles and machines with combustion engines emit a lot of substances that are harmful for both the environment and human health, like soot, CO2, NOX, particulate matter, etc. To fight climate change and improve the air quality, governments are setting increasingly tight emission requirements. In order to meet these requirements, vehicles and machinery need to be replaced by, or converted to cleaner and more sustainable versions.
The cleanest option are zero emission vehicles and machines, i.e. vehicles and machines that don't emit any harmful substances. For this there are two options: the battery electric powertrain and the hydrogen electric powertrain. DLS offers solutions for both battery electric and hydrogen electric powertrains. These Green Mobility solutions are available for OEMs, or as retrofit for both new and existing vehicles and machines.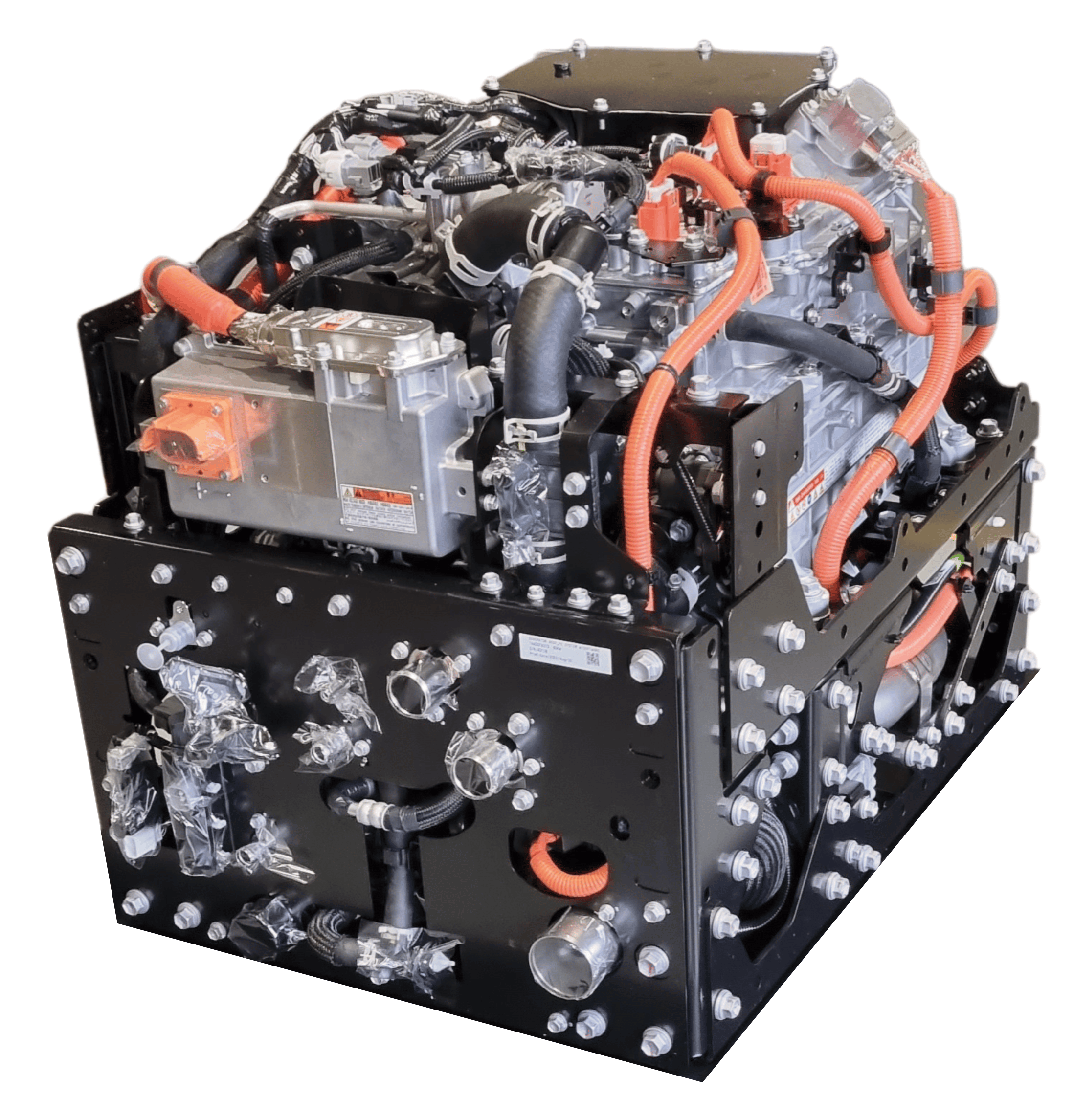 A fuel cell can convert hydrogen in electricity. There are different types of fuel cells that use different techniques, e.g. alkaline fuel cell (AFC), phosphoric acid fuel cell (PAFC), solid oxide fuel cell (SOFC), molten carbonate fuel cell (MCFC), proton exchange membrane fuel cell (PEMFC), and direct methanol fuel cell (DMFC).
The most common technology in heavy duty vehicles and machines is the PEM fuel cell. Here the fuel cell is used as a range extender; the fuel cell continuously charges the battery pack. This is because heavy duty applications work with dynamic duty cycles, with sometimes very high engine power and heavy load, but often also low power demands and idling.
Hydrogen electric powertrains
A hydrogen electric powertrain consists of a regulated electric drive motor, traction inverter, basic (buffer) battery, a fuel cell module with hydrogen energy storage system (hydrogen tanks, piping and auxiliary components), and a separate fuel cell cooling system. The fuel cell is used as a range extender and delivers the required energy to the buffer battery, which drives the powertrain.
At DLS we supply multiple A-brand fuel cell solutions for you hydrogen electric powertrain, like the Toyota fuel cell module. These fuel cells are specially designed for heavy duty applications. The fuel cell modules range from 60 to 80 kW, offer a wide output voltage range, are controlled by J1939 CAN bus connection, and are available for OEMs or as retrofit. The modules can be connected in parallel to increase the total electric output power. The fuel cells are robust, and offer high efficiency and proven reliability. The fuel cell tank system can be delivered in 350 or 700 bars and is always optimized for the daily use of your vehicle or machine.
Based on your vehicle(s) or machine(s), and the applications and requirements, we advise the best solution for you. We can deliver the complete system, including related equipment, extensive installation and operation manuals, and, if needed, technical support. Optionally, we can deliver you an integrated system solution, including engineering, assembly, and commissioning.
Retrofit zero emission powertrains are available for both new and existing vehicles and machines. The combustion engine and other parts of the traditional powertrain are removed and replaced by a zero emission powertrain.
Retrofits offer multiple benefits:
Accelerated depreciation is avoided, because you can still use you vehicles and machines (life extension). This means you don't have to replace them with new zero emission types before they are completely amortized.
Investment is limited, because retrofitting a vehicle or machines is less expensive than purchasing new zero emission models.
Higher ROI (return on investment) regarding emission reduction. When comparing a retrofit zero emission powertrain to the purchase of a zero emission vehicle or machine, more kilos of emission reduction per euro investment are achieved with retrofit.
More sustainable solution. By retrofitting you extend the lifespan of your vehicles and machines, which saves the use of scarce raw materials and production energy for the manufacturing of new vehicles and machines.
DLS can take care of the entire retrofit project. We assess your needs and wishes, and the functional specifications. Based on this we come up with a customized design for you vehicle(s) and/or machine(s). After approval of the design we perform the retrofit, either on your location, or in our workshop.
We perform all retrofits according to our MMT concept. MMT stands for Modular, Mutual interchangeable, and Time-independent. It is a fully modular system design, which means that all components in the zero emission powertrain are modular, can be configured, and are interchangeable. The advantage of this concept is that future developments are foreseen and, if necessary, only the modified module from the converted zero emission powertrain can be replaced or upgraded.
For example, your hydrogen powered machine is moved to a project where only electrical infrastructure is available. We can then switch the energy module from a fuel cell system to a fully electric battery system by removing the fuel cell module and adding extra battery modules. These power systems are linkable modules that are connected to each other using predefined interfaces. These interfaces function as a kind of plug connection, making them easy exchangeable. The control system also has the same MMT architecture and therefor can be easily adapted.
Complementary products for hydrogen electric powertrains
We offer multiple complementary products for your hydrogen electric vehicles and machines:
eAxle
Allison's fully integrated eGen Power electric axles are a perfect fit for battery electric vehicles and hydrogen electric vehicles. The e-axles replace the traditional powertrain of a vehicle and can be fitted to most OEM vehicle assembly processes.
ePTO
An ePTO offers a power take-off (PTO) solution for battery electric and hydrogen vehicles. The ePTO provides the same power as a traditional PTO, but in a clean way. No harmful substances are emitted, because the ePTO is powered by the electric motor instead of a combustion motor. The ePTO is also very quiet in use.
Diagnostics
Jaltest Diagnostics is a multi-brand diagnostics tool that gathers vehicle data and makes diagnoses about vehicle status, failures, maintenance needs, and service indication. The diagnostic software helps you to locate malfunctions, find its cause, and fix the issue(s).
Telematics
Jaltest Telematics offers you real-time control of your fleet. The telematics software combines traditional fleet management and innovative features, such as remote diagnostics and predictive maintenance.